H2GO's Brian Griffith Earns Utility Management Certification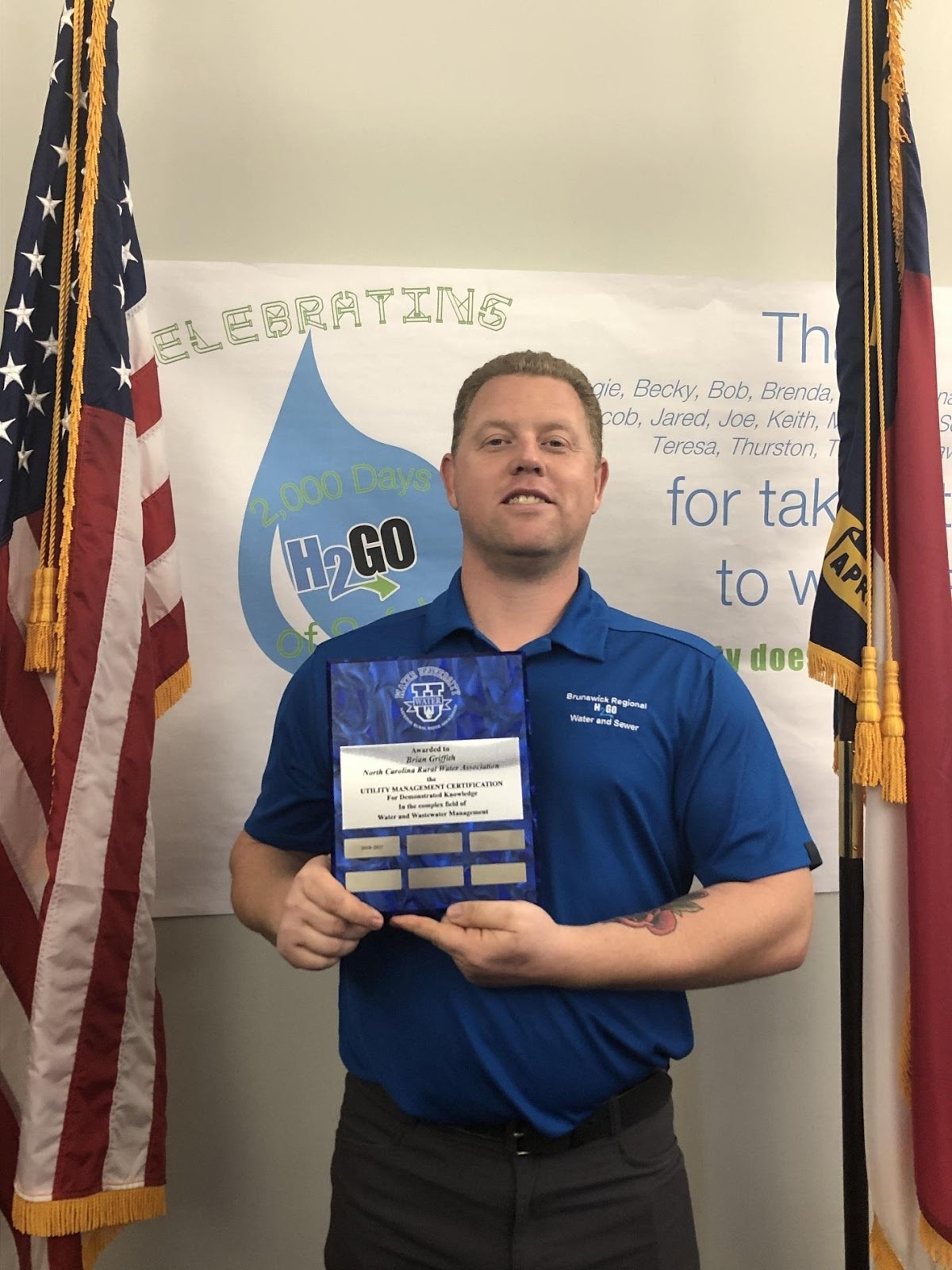 On November 16th, 2018 The Water University and North Carolina Rural Water Association (NCRWA) announced that Brian S. Griffith, Wastewater Superintendent of Brunswick Regional Water and Sewer H2GO, earned the Utility Management Certification (UMC) credential. The UMC is the highest professional credential in the utility industry. 700 utility professionals- less than one percent of all utility professionals in the world- have earned the UMC.
To be designated as UMC certified, an applicant must have a minimum number of years' experience in water and wastewater management and have completed a minimum number of hours of specialized professional development- which are scored in a formula to ensure that experience and training meet a minimum requirement. The applicant must then pass a stringent examination in water and wastewater system management. In order to maintain the certification, individuals must undertake ongoing professional development and activities in water and wastewater system management.
Brian has served in the water and wastewater industry for over 14 years, obtaining the highest certifications in wastewater, water distribution, collections, and backflow testing. Brian's hard work and committed attitude also led him to manage H2GO's safety program and take lead of the safety committee, earning him the Water Environment Federation's George W. Burke, JR Safety Award in 2017. "With Brian's commitment to his position, as well as to the continuation of his own knowledge, it is no surprise to us that he has obtained such prestigious recognition," H2GO's Executive Director Bob Walker said. "Brian continues to improve the state of H2GO and to help his fellow employees learn and grow professionally."
H2GO recognized Brian for his achievement at their regularly scheduled Board of Commissioners Meeting on February 19th. Additionally, NCRWA will be recognizing Brian at the upcoming NCRWA Annual Conference May 13th – 16th at the Koury Convention Center in Greensboro, North Carolina and will publish his name in an upcoming issue of NCRWA's magazine, The Tarheel Pipeline.
The Water University is an affiliate of the National Rural Water Association (NRWA). The NRWA is a membership organization of more than 35,000 water and wastewater systems that serve millions of customers across the United States. With support of the North Carolina Rural Water Association and other State Rural Water Associations, NRWA is the premier source of training, on-site technical assistance, and source water protection planning for the water and wastewater industry. For more information about NRWA, visit www.nrwa.org.