Brunswick Electric Announces Efforts to Build a Brighter Future for Local Communities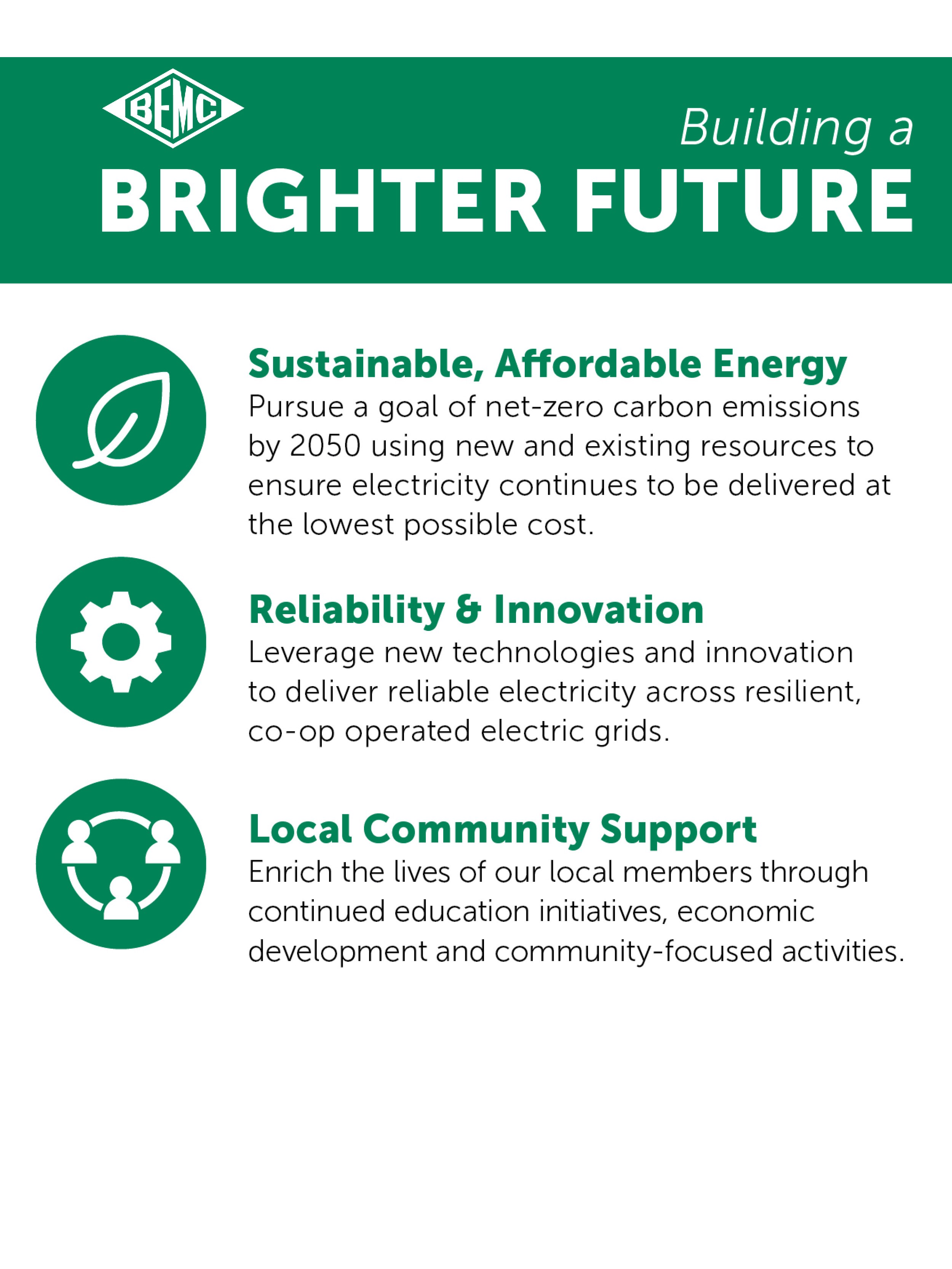 Supply, N.C. ­ (December 17, 2020) – Brunswick Electric Membership Corporation (BEMC) is pleased to announce expanded efforts to build a brighter future for its 76,000 members in Bladen, Brunswick, Columbus and Robeson counties.
In partnership with electric cooperatives statewide, BEMC is committed to achieving two milestone sustainability goals, while also preserving the reliability and affordability of electricity. Specifically, the local cooperative aims to reach net-zero carbon emissions by 2050 with an interim goal of reducing carbon emissions by 50 percent from 2005 levels by 2030.
"Electric cooperatives, including BEMC, are leading a wide range of economically sound, innovative energy solutions to provide our members with reliable, affordable electricity while also achieving responsible sustainability goals," said Josh Winslow, BEMC's CEO and general manager. "Another important aspect of our Brighter Future vision is continuing our work to enrich our community through economic development, education initiatives and other support that will build a brighter local future and bridge North Carolina's urban/rural divide."
By implementing innovative local services and partnering with electric cooperatives across the state to coordinate new and existing energy resources, BEMC is creating a modern electric grid that is more flexible, resilient and capable of supporting new energy solutions and the growing needs of local communities.
Prime examples of BEMC's efforts to build a brighter future for this region include its development of an innovative neighborhood microgrid called Heron's Nest in Shallotte, and the introduction of a new initiative called Beat the Peak that levels off demand for power to help keep energy costs down for its entire membership. Additionally, BEMC implemented a new time-of-use rate option giving members the opportunity to save money by using energy during off-peak hours, at a reduced rate.
To learn more about the Brighter Future vision and BEMC, please visit ncelectriccooperatives.com/brighter and bemc.org.
###
BEMC is a locally owned and operated not-for-profit corporation. It is the second largest electric cooperative in North Carolina and serves more than 98,000 meter locations in Brunswick, Columbus, and parts of Bladen and Robeson counties. Founded in 1939, BEMC has a longstanding commitment to the communities it serves, providing support for a wide variety of activities that contribute to the quality of life for all citizens.