Brunswick Electric Announces 2020 Electric Cooperative Youth Tour Winners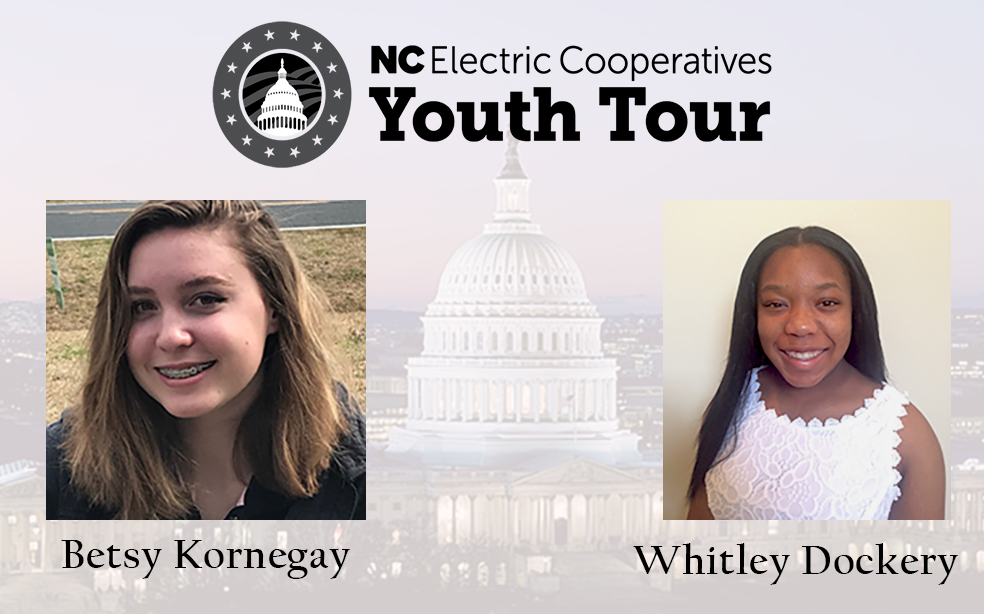 SUPPLY, N.C. (February 17, 2020)
– Brunswick Electric Membership Corporation (BEMC) is proud to announce that two Columbus County students, Whitley Dockery and Betsy Kornegay, have been selected to represent the cooperative at the 2020 Electric Cooperative Youth Tour in Washington D.C. this summer.
Whitley, a sophomore at Whiteville High School, is the daughter of Dalton and Sheila Dockery of Bladenboro and Betsy, a sophomore at Columbus Career and College Academy, is the daughter of Jackie and Meri Kornegay of Chadbourn.
"The Youth Tour provides students in our community an opportunity for education, training and information, one of the Seven Cooperative Principles embraced by BEMC," said Josh Winslow, general manager and CEO of BEMC. "We're pleased to have Whitley and Betsy represent the cooperative as they experience our nation's capital and see government in action in Washington D.C. this summer."
Whitley and Betsy will join 1,800 peers from across the United States for a week-long adventure where they will meet their Congressional Representatives and Senators and take tours of historic sites and museums. They will also establish a mini-cooperative during the week, gaining valuable insight into the cooperative business model and how it works.
Established in the 1950s, the Electric Cooperative Youth Tour has sent more than 50,000 high school students from rural areas and small towns across America to Washington, D.C. for a week in June. While student groups are organized at the state level, they all come together for Youth Day where they get to meet each other and hear featured speakers who provide insight to the important roles electric cooperatives play in their communities.
BEMC is a locally owned and operated not-for-profit corporation. It is the second largest electric cooperative in North Carolina and serves more than 98,000 member locations in Brunswick, Columbus, and parts of Bladen and Robeson counties. Founded in 1939, BEMC has a longstanding commitment to the communities it serves, providing support for a wide variety of activities that contribute to the quality of life for all citizens.